NEW! Home treatment and care service
Atlas General Hospital is proud to announce a new service for patients – Home treatment and care!
As part of the expansion of services it offers to its patients and bearing in mind that a large number of patients need palliative and community treatment and care, we decided to form a team of experts who would be at the service of patients outside the hospital.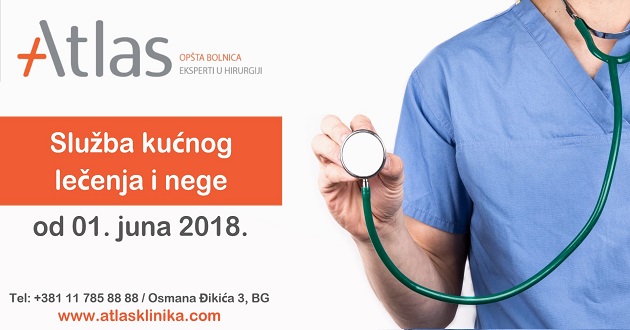 The home treatment service is primarily intended for:
patients in the postoperative course and rehabilitation
patients who cannot move independently
patients in the terminal phase of the disease.
In addition, the service is intended for all patients to whom it is possible to provide quality medical service at home.
Our team for providing home treatment and care services consists of experts from various branches of medicine:
INTERNALIST
SURGEON
ORTHOPEDICIAN
ONCOLOGIST
NEUROLOGIST
PHYSIATRIST